Bonjour à tous, je viens vous présenter l'excellent mod "Master of Europe" sur Napoléon Total War qui est une vrai perle !
C'est un mod fait par les moddeurs L'aigle et Steph qui propose une véritable retexture de toutes les unités en jeu avec également beaucoup d'ajouts !
Le mod est évidemment disponible depuis un certain temps mais reçois des mises à jour régulières.
Pour l'heure la campagne n'est malheureusement pas encore disponible mais d'après Steph elle le sera très bientôt !
Le mod est disponible à cette adresse:
http://www.twcenter.net/forums/showt...igle-and-Steph
Voici ce que le mod contient: (en anglais)
This thread is aimed at showing what is the status of the mod: what is finished, what will come in next release, and what is on the roadmap.
Current status of the mod
Playable game mods
After many months (years?) of waiting, we are releasing the first version if Masters of Europe with a playable campaign. Release is planned for early march.
So for the moment, we work mostly on battle, with complete roster for some faction, and working BAI (or rather BOOM).
You can play normally:
Land battles, with a choice of 3 periods, giving different unit list and uniforms.
Naval battles
Siege
I tested only SP games, I did not even tried MP games and I don't know if they work. This is Sirlion's main goal after the release of the campaign.
You can play as Beta:
Single player "Grand campaign": it should be fully playable, but a few factions are not done yet. This includes Netherlands, Belgium, Greece, Romania and Ottoman Empires. So don't report bugs about them!
Multi player battles: I'd be interested to know if MoE works with that, so if you want to test why not, but no guarantee it will.
You should avoid playing:
Other campaigns than the "grand campaign": since the unit roster is heavily modified, they will probably not work well.
Playable factions
The following factions have been finished and are playable in land battles
France
Britain
Austria
Prussia
Russia
Bavaria
Wurttemberg (includes some Baden bonus units)
Saxony
Hessen (includes Hessen Kassel, Hessen Darmstadt, and few Nassau bonus units)
Westphalia (includes a few Cleves Berg bonus units)
Hannover
Oldenburg
Mecklenburg
Switzerland
French Royalist
Brittany
Ireland
Scotland
Hungary
Courland
Cossack Hetmanate
Kingdom of Italy
Naples
Sicily
Sardinia
Papal States
Venetia (emergent)
Savoy (emergent)
Republic of Italy (emergent)
Denmark
Norway
Sweden
Poland
Spain
Portugal
Catalonia
This include some foreign regiments (Vistula legion, Swiss, Croates for France, and KGL, Brunswick for Britain).
Factions in bold have a full roster of units, with detailed textures and are fully done.
Factions in plain text have edited textures, but still use colour masks. They are historically correct, but not as nice as when not using a mask. They may be improved in the future.
Faction in italic have a full roster of units, but are using CA base textures with colour corrections. They are fully playable, but the uniforms are not as nice and historically correct as for the other factions.
They will be updated later with full detailed uniforms.
The following factions have been finished and are playable in naval battles
France
Britain
Austria
Prussia
Russia
Denmark
Sweden
Netherlands
Spain
Portugal
Ottoman
Je vais laisser le soin aux modérateurs de fare une plus jolie présentation du mod.

En attendant voici quelques images:
July 2013 release
September 2013 release
May 2014 release
August 2014 release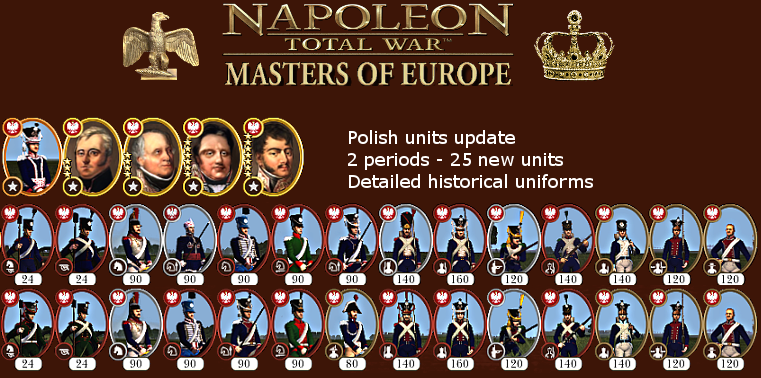 April 2015 release